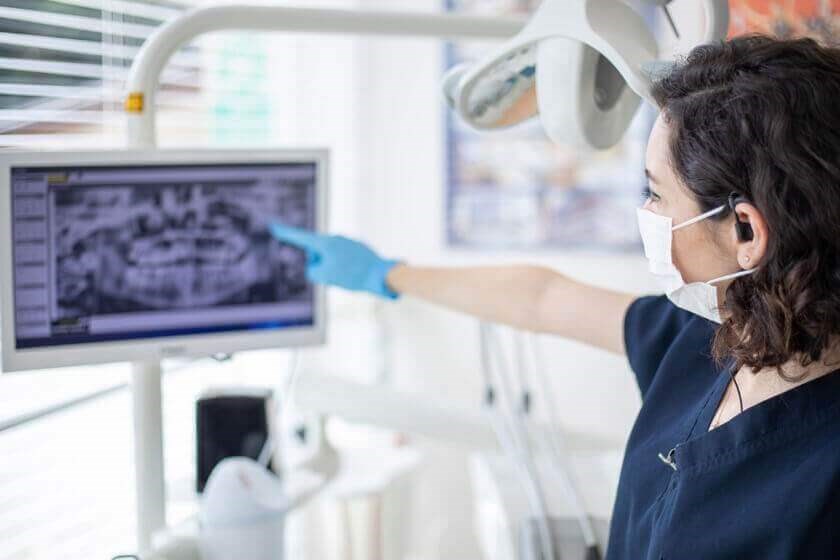 UNDERSTANDING THE ADVANTAGES OF DENTAL IMPLANTS
Often, our patients feel a bit unclear on the benefits of dental implants (also known as implant-supported restorations). When your dentist determines that a dental implant is the smartest course of action for replacing a missing tooth, you will possibly start thinking about how dental implants work and how they can improve your daily life. Dental implants provide a long-term corrective treatment for missing teeth. Implant-supported restorations often are an excellent alternative to various restorative treatments (such as dentures) and offer numerous advantages that often make them a smart choice for many patients in Macedonia, OH. Our remarkable staff of experienced dental professionals at DentalWorks - Macedonia uses dental implants to treat patients who are missing one or multiple teeth. These implants can do so much more than improve their oral health; patients are thrilled with the way implant-supported restorations create natural-looking results and breathe new life into their smile.
HOW IMPLANT RESTORATIONS ARE USED
Historically, if you were missing one or maybe several teeth, your only available choices to replace them were removable bridges or dentures. While these do reinstate the appearance and use of your teeth, removable dentures and bridges both necessitate more care and can become loose and difficult to wear due to bone loss in your gums and jawbone. This bone loss happens because of the lack of stimulation from the tooth root, which is destroyed without its tooth. A dental implant works by way of a metal post placed into the gums and jaw to mimic the tooth's missing root. After the post has integrated with the bone, a customized device known as a gum abutment is attached the post. This lets your dentist in Macedonia, OH to restore your extracted tooth or teeth with the brand new, implant-supported artificial tooth. The dental practitioner can also substitute several teeth with an implant-supported bridge or partial dentures. Men and women who need to have all of their teeth removed can get a full arch of teeth with implant-supported dentures. Unlike traditional restorations, implant-supported restorations can be treated the same way as real teeth; in other words, those with dental implants don't have food you can no longer eat and/or special cleaning instructions.
SOME OF THE BENEFITS OF GETTING DENTAL IMPLANTS
Some individuals might still opt for a traditional bridge or dentures, but they may not result in the ideal outcome in the long run. There are a lot of advantages to opting for dental implants, starting with:
THEY LAST LONGER
Dental implants are designed to last for well into the future. As long as you are diligent about proper oral hygiene and schedule appointments with your dentist in Macedonia, OH for routine exams and cleanings, your implant-supported restoration should last for many years. When you have your annual dental assessment, your dentist needs to assess the fit and wear of your restoration to determine if it should be adjusted, altered, or replaced.
NO DAMAGE TO SURROUNDING TEETH
Dental implants function just like your normal teeth. You virtually never have to be anxious about them impacting on adjacent teeth. Other dental restorations may require surrounding teeth to be modified, but this is not the situation when prepping the teeth for dental implants. Recipients of dental implants can be sure that the neighboring teeth will remain sound and untouched.
STRENGTH
DentalWorks - Macedonia provides restorations, such as bridges, dentures, or crowns that are specially made from medical grade materials. The metal post secured into your jawbone is fabricated out of titanium, a natural chemical element that cannot decay. Dental implants mean you can eat whatever foods you wish without having to think about damaging your new restoration.
THEY LOOK NATURAL
One of the most common questions that patients have regarding any dental restoration is if the results will seem natural. A terrific feature of implant-supported restorations is that they truly mimic the shade and shape of your natural teeth if they are designed from high-quality materials by specialists in a dental laboratory. The results will be so good that your everyday acquaintances won't be able to tell which are your natural teeth and which are restorations (as long as you don't decide to tell them).
VALUE
The cost of dental implants could feel high compared to other alternatives, such as bridges or dentures; however, implants may actually be less expensive overall. Over time, bridges and dentures need to be repaired and/or replaced, so the expenses can multiply quickly. There is also the expense of adhesives (for ill-fitting dentures) and tablets for overnight soaking. Dental implants are composed of a durable material and built to last for many years.
NO LOOSENESS
Though traditional restorations (such as, crowns, bridges, and dentures) can become loose as the jawbone changes, a good dentist should ensure that your implanted post is secure before they will attach your tailor-made restoration. The post needs from 3 – 6 months to integrate with your jawbone and gums, but when it does, it provides a wonderful foundation for the attached restoration. In the rare case that you do have any discomfort after healing, schedule an evaluation with your dentist in Macedonia, OH to have your implant-supported restoration adjusted.
NO SPECIAL CLEANING PROCESS
As opposed to other restoration] options (for example, dentures), dental implants are maintained and cleaned just like your other teeth. Implanted restorations don't need to be soaked when you sleep, and you won't need to apply denture glue when you wear them. Recipients of dental implants don't need to adhere to any special cleaning process for the implant. Patients should always brush and floss on a regular basis so as to lengthen the life span of the implant. While the durable materials used to fashion your restoration are less likely to stain compared to your organic enamel, they can become discolored, so be sure to brush after eating or drinking stain-causing foods and drinks like coffee, grape and cranberry juice, and berries.
AN INCREASED FEELING OF CONFIDENCE
An individual's confidence and self-esteem could drop if they felt others were judging them because they have missing teeth. Dental implants can relegate these anxieties to be things of the past. You may find yourself smiling more, laughing more unreservedly, and speaking without hesitation as soon as you've gotten familiar with your implant-supported restoration.
HOW SHOULD I SCHEDULE A CONSULTATION?
If dental implants might be something you are interested in hearing more about, contact our team at DentalWorks - Macedonia to make an appointment. Our team in Macedonia, OH has the skills necessary to recreate your smile into one you will be thrilled to share with your family and friends. Our dental professionals will walk you through the details and plan a unique treatment program to reach your smile goals. You'll be able to eat, laugh, and converse with others with a higher level of confidence when the dental implants complete your smile. Get in touch with us today to learn why so many patients in Macedonia, OH can't stop smiling after visiting our office.